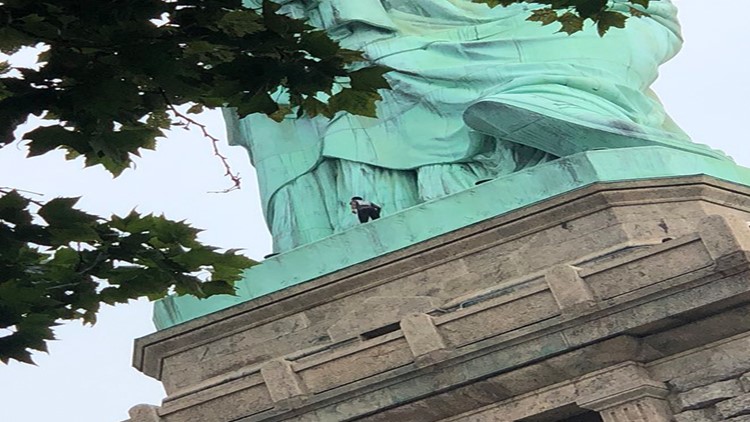 Eventually, officers put a harness and ropes on her, and she went with the officers to where a ladder was propped up on the base of the statue.
An organizer of Rise and Resist, the group behind the anti-ICE banner, said the woman was affiliated with the group, but her climb was not planned as a part of the protest, CNN reports. According to the Daily News, Okoumou has taken part in several protests with the group before. She didn't identify the woman but said the group wasn't aware of her plans.
"She is refusing to co-operate and our efforts to engage her are ongoing at this minute", Sgt. David Somma, a spokesman for the National Park Service, told Reuters. "People have the right to speak out".
Altogether, the Statue of Liberty and its supporting structure are about 305 feet tall.
"It is their one and only chance to come here", Willis said.
"This incident caused disruption to thousands of visitors on one of the busiest days of the year at the Statue of Liberty", US Park Police Major Pamela Smith said. The sign read, "Abolish I.C.E".
The group staged a protest against the Trump administration's immigration policies at the Statue of Liberty on Wednesday, hanging an "Abolish ICE" banner at the base of the statue. They oppose President Donald Trump's administration and advocate ending deportations and family separations at the US-Mexico border.
Malaysia Corruption Scandal: Former Malaysian PM Najib Razak arrested
A spokesman for the politician did not immediately comment but Najib has consistently denied wrongdoing. AFP says A Malaysian cabinet minister has since said that "Malaysian Official 1" was Najib.
Okoumou allegedly 'staged a unsafe stunt that alarmed the public and endangered her own life and the lives of the [New York Police Department] officers who responded to the scene, ' US Attorney Geoffrey S. Berman said in a statement released earlier in the day.
The "zero-tolerance" policy has seen more than 2,300 children split from their parents since May, with anyone found to be entering the U.S. illegally set for arrest and prosecution. Some 2,300 children have been separated from their families over a six-week period in April and May. They were holding off a banner that stated "Abolish ICE".
Last February, someone hung a banner reading "Refugees Welcome" from the observation deck. It was removed after an hour of being discovered, AP reports.
- The 4th of July at Liberty Island was a chaotic holiday. The other protesters, also with Rise and Resist, held a banner over the railing at the base of the statue.
Puerto Rican nationalists occupied the statue for nine hours and draped its forehead with a Puerto Rican flag in 1977, demanding independence for the island.
Police say the woman is a protester.